"Above all be loving, this ties everything together perfectly"
Colossians 3:14
Our Vision
We are building what we value and everything we do is done with love. Our six school values of responsibility, friendship, honesty, compassion, respect and perseverance are all underpinned by our one all-encompassing value of love. Adults and children are known and loved and our vision guides us to live our values every day and inspire a love of learning.
Our Mission Statement
Staverton is a nurturing and aspirational church school, offering an excellent education to inspire a love of learning and shared energy to continually get better. Our vision is rooted in theology and educational philosophy, to support our children to flourish academically, spiritually, emotionally and socially. We are united in our vision having a transformational impact on the wellbeing of our whole school community. Relationships at Staverton are trusted and all successes celebrated, valuing the unique qualities of each and every one of us in our school community. We prepare our children for life beyond our doors, instilling strong Christian values to guide them to live life in all its fullness.
Please click here to see our Religious Education Policy:
LOVE: Live Our Values Everyday
Respect
Compassion
Perseverance
Honesty
Friendship
Responsibility
We provide opportunities through our curriculum and school life so that children will:
lead and become leaders;
be inspired and inspire others;
voyage beyond the classroom to learn about, experience, and care for the wider world;
educate them within the curriculum and life knowledge and skills;
use the teachings of Jesus to guide their decisions with strong morals.
COLLECTIVE WORSHIP
Please click here to see our Collective Worship Policy:
We hold whole school collective worship on a daily basis and each half term centres around one of our whole school values. This is closely linked to the liturgical calendar.
Our school collective worships explore our values through sharing stories from the Bible, stories with strong value or moral lessons, and singing hymns/ songs with lyrics that make us think about our values, our world or God. All worship is based around the teachings of Jesus.
We regularly have visitors who tell Bible stories through song and drama. Other collective worship is taken by teachers and visitors from the local community and related to Christian values and bible stories.
Roots and Fruits' is used to complement the planning of Collective Worship. Worship follows a three step plan: Learning, Reflection and Responding. Collective Worship has been developed so that is is Inclusive, Invitational, and Inspirational. Christian values are the central theme to our Worship and themes are planned to tie in with these, including Bible stories that could be used to teach these values and explore ideas. We light three candles at the beginning of Collective Worship to represent the Holy Trinity.
Our Worship Leaders, made up of pupils from each class, prepare for our daily acts of Collective Worship. We light a candle, prepare a worship table, select music, display the Bible and lead prayers.
We have a time for reflection or prayer every day; at the start of the school dayi, before lunch and at the end of the school day.
We are proud to work closely with our village vicar and CSALT to help us deliver collective worship in our schools.
As much as possible, we will visit our church, St Mary the Virgin, with our whole community. The children celebrate and commemorate different events throughout the year, including Harvest, Remembrance, Christmas, Carol Service, Easter, Ash Wednesday and End of Year.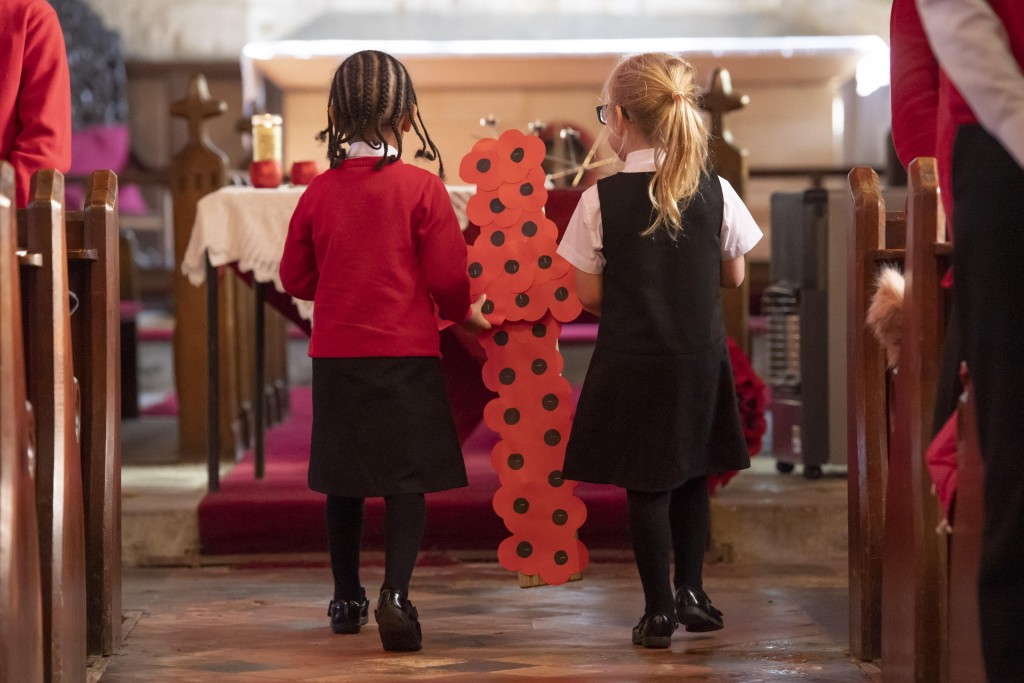 Remembrance Service
CSALT
We are always lucky to welcome Wyn Williams into school for a lively, interactive experience which the children look forward to. The team at CSALT have been working with schools across Northamptonshire for over 20 years and we are proud to associated with them.
RE CURRICULUM
As part of the Peterborough Diocese Education Trust, we follow the Agreed syllabus and use 'Understanding Christianity' as a supplement to aid the teaching and learning in order for the children to really have a solid grasp on the Christian Faith. Children learn about the main features and teachings of Christianity and other main religious faiths including Judaism, Hinduism, Sikhism and Islam. Pupils are encouraged to respect others' beliefs and values helping to promote tolerance and understanding between those of different races and cultures. We also have themed weeks where the schools totally immerse themselves into a particular religion. Visits to different places of worship form part of the RE curriculum. Daily Collective Worship, along with providing structured time for reflection, forms an essential part of our school day. We have close links with our parish and our local vicars play an active role in collective worship.
Through 'Understanding Christianity', the teachers and children refer to 'The Big Frieze' - a wall frieze to illustrate seven of the eight core concepts that are explored throughout the Understanding Christianity materials. Effectively, this presents a view of the 'big story' of the Bible – an artist's response to the approach used in the Understanding Christianity materials.
The Big Frieze is designed to give teachers the opportunity to make pupils aware of the wider context of each concept, unit and text studied in the Understanding Christianity materials. Reminding pupils regularly of where a particular text occurs within the 'big story', by pointing it out on the Frieze, helps to build up a coherent understanding of the core concepts and the relationship between them.
The artwork illustrates these concepts, from Creation to Kingdom of God, presenting a Christian view of the Bible as more than a collection of different texts – one which has an overarching coherence and story.