Encouraging Children to be Global Citizens
Promoting respect and responsibility for the world around us
Preparing Children for Adulthood
'Start children off on the way they should go, and even when they are old they will not turn from it.'
Proverbs 22:6
Promoting Christian Values, Developing Our Virtues
LOVE: Live Our Values Everyday
One overriding Value: Love
'Love is patient and kind; love is not selfish nor quick tempered; love is always supportive, loyal, hopeful and trusting; love never fails; love doesn't keep a record of wrongs that others do.', 1 Corinthians 13:4-8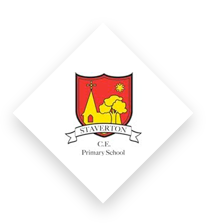 Welcome Message
Brian Irvine
Headteacher
On behalf of our children, staff and governors, let me welcome you to Staverton Primary School website, where we hope you find all the information you need and that it gives you an insight into life in our friendly and dynamic school.
It is a great pleasure to be the headteacher of Staverton; the school has a lovely, welcoming atmosphere, which is extended to all our visitors.
We have high expectations of our children and a very supportive team who work tirelessly in helping them achieve their academic potential and become confident individuals, ready for life beyond our doors.
We enjoy strong links with our local parish church of St Mary's, and place our faith at the centre of all we do. Our Christian values lead us in our learning and decision making every day, as we strive to be the best that we can be. Our Christian ethos allows the children to learn in a happy, safe and vibrant school community.
We offer a well-balanced, engaging and relevant curriculum, allowing our children to learn about their local environment and the ever-changing world they live in.
If you would like to know more about the school, please get in touch or arrange a visit. It would be our pleasure to meet you and show you our school. /p>