WRAPAROUND CARE
Knowing how important morning and after school provision is to many parents at our school, and in the absence of any other local providers, we offer our own breakfast and after school club.
Breakfast Club: 8:00am—8:50am
After School Club
First Session: 3:15pm—4:30pm
Second Session: 4:30pm—6:00pm (after a club)
Both Sessions: 3:15pm—6:00pm
HOLIDAY CLUB DURING SCHOOL HOLIDAYS
We also offer a holiday club, run on site, by The Holiday and Food Activity Fund (HAF) 9am - 3pm.
LUNCHTIME AND AFTER SCHOOL CLUBS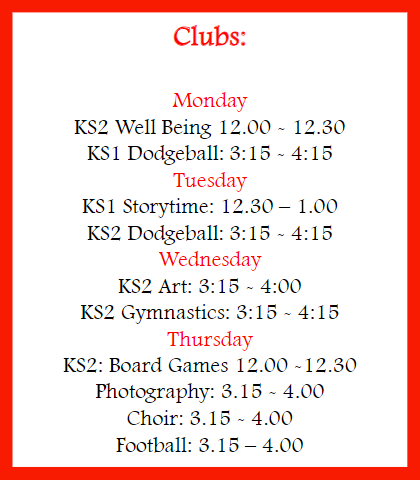 We offer a range of after-school and lunchtime clubs to enable our children to have lots of additional opportunities. Some clubs are led by teachers in our school and some are led by external providers.