Music Mark: 'Your dedication to a broad and balanced curriculum offer is inspiring'.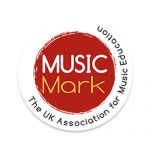 The school is now a member of Music Mark.
Our local music service, NMPAT (Northamptonshire Music and Performing Arts Trust) has recognised the value we place on music in the school and nominated the school to be a member.
We value the importance of music in the curriculum and believe it helps empower children of all abilities and backgrounds to succeed. It does not depend on children's maths or literacy skills to be successful, it helps develop speaking and listening skills and even act as stress relief to lose yourself in the music. Music is such a great way to help children through our Vision and Values: Leading, Inspiring, Voyaging and Educating.

We offer paid for music tuition through County Music Service (NMPAT), with children currently learning to play piano, guitar, violins and cello. We also employ the wonder skills of Mr McCloy, who is a professional musician and shares his skills with each class. Children listen, sing, learn about how to make music, and then make music too - using anything Mr McCloy can find! He also teaches them how to play with drums, recorders, xylophones, and even ukeleles.