Welcome to Class Four
Years 5 and 6 - Mrs Bell

In Classes 3 and 4, we strive to ensure that our children have strong core skills in Reading, Writing & Mathematics, which are then utilised and given a context within a broad and creative curriculum.
Reading continues to be a priority; children are encouraged to read widely for pleasure, whether that is electronic material or traditional books. We also take every opportunity to read throughout the wider curriculum areas, in order to develop valuable research and information gathering skills.
Mathematics is also a priority. Encouraging an enjoyment of the subject is an integral part of Mathematics; learners at all stages are supported to find pleasure in challenge and be aspirational for themselves.
By the end of their time in Class 4, we aim for the children to be well prepared to continue successfully into secondary education and beyond.
Class 4 become orange mummifiers and embalmers!
Details
It has been a lovely week welcoming back the new Year 5 and 6 to Class 4. They have done a fantastic job of settling into their class and getting used to normal again. This week we have been learning all about the history topic of Ancient Egypt, including how mummification was used; during which the children got a chance to practise their mummifying skills by mummifying oranges! Super 1st week back Class 4.
Final term in Class 4
Details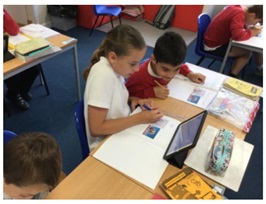 This week in Class 4, we have been exploring how to use speech to show character in stories and learning about the role of evolution in animal adaptation. Have a fantastic summer Class 4. Year 5 I look forward to seeing you as new Year 6 in September and Year 6 we wish you lots of happiness and success for your move to secondary school.
Diving into the deep, blue sea for 'Pirates vs. Mermaids'!
Details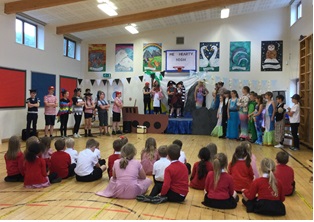 Class 4 have had a fantastic week this week. They finally got to show their performance of Pirates v Mermaids to an audience - a small and very socially distanced audience! They put on a great show and everyone did fabulously well. We finished up the week with a second in the Northamptonshire Sport Kwik Cricket competition. Super work Class 4.