Class 1 Curriculum Information
Welcome to Class One
Reception - Mrs Allen and Mrs Carlile
In Class 1 we really value the relationships we form with parents and work hard to ensure our children have a happy and secure start to school. We aim to provide the very best start to primary schooling.
We enjoy learning by investigating the world around us. We encourage and support each child's growing independence as well as nurture lifelong learning. Children are given the opportunity to explore their surroundings through creative and independent learning experiences.
One of our priorities in Class 1 is the teaching of Phonics, daily, to aid the children's learning. We hold a Parents' Information Evening early in the Autumn term which includes a focus on Phonics so that parents can help their child at home.
Practising to Read Words
Details

Written by

Super User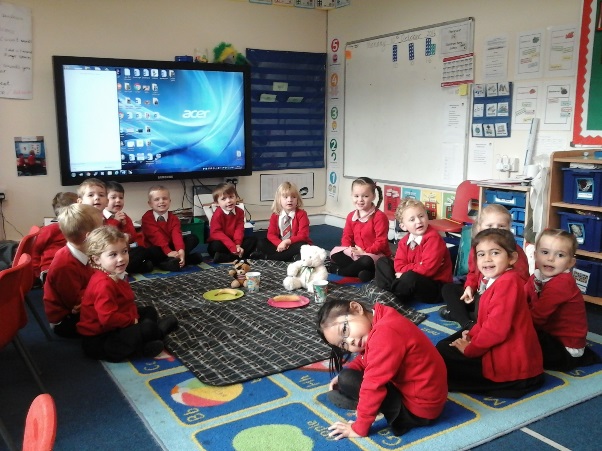 This week Class 1 have been practising to read words using all the sounds taught to date. Some of us have even had a go at writing our first dotty sentences.
Class 1 are really starting to understand and use the vocab of 'equals' to mean 'the same as'.
Some lovely problem solving and ideas were shared.
In PE we practiced standing on one leg like a pirate.
Parents, look out for an email from '2 build a profile' .If you follow the link to confirm, I will be able to send the electronic profiles of what your child has been learning at school this half term. I am looking forward to speaking to you all next week at parents evening!
Yet another busy week!
Details

Written by

Super User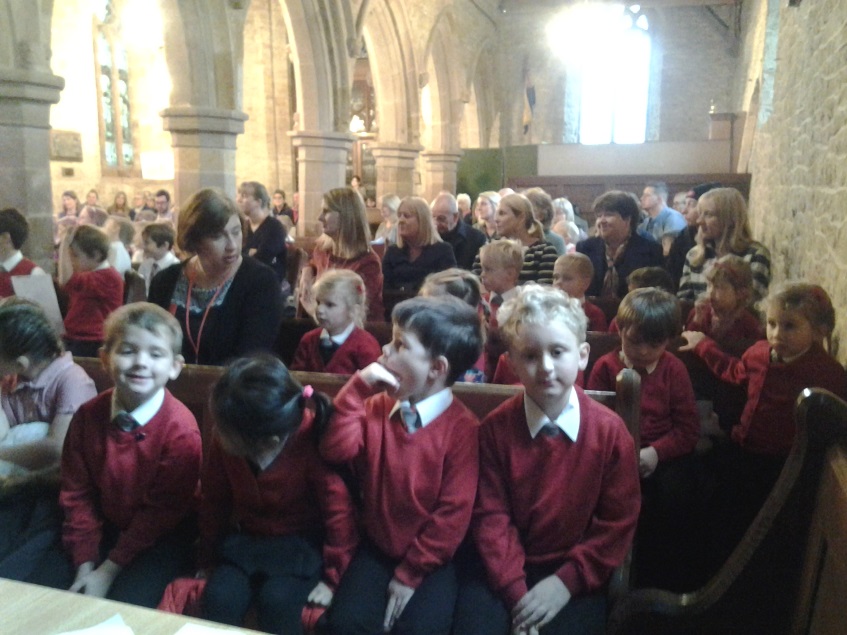 This week Class 1 have had yet another busy week.
The children have been learning to read and write the sounds c,k,u and b. Class 1 all have a reading book now. (If you would like a new book, please place the existing book inside the reading diary in the blue basket by the Class 1 door in the morning, and we will help your child choose a new one).
The class have been busy learning about their 5 senses. They have been on a walk around the school to see what they could hear, smell, see, and touch. We decided to save the tasting until we were back in class and had some fruit to try. The children then made some sensory pictures with herbs, spices, bubble wrap and other interesting material that we found in the classroom.
We also managed to squeeze in practices for the Harvest service in church, learn to add 2 numbers and count how many there are altogether, pretend to be a pirate and stand for 10 seconds on one leg, build lots of dens in the outside area and learn to recognise if someone is feeling happy or sad.
I wouldn't be too surprised if your child is more tired than usual after such a busy week!
A big thank you to all the parents who turned up for the Class 1 reading and maths evening. I hope you found it useful!
Making Trains!
Details

Written by

Super User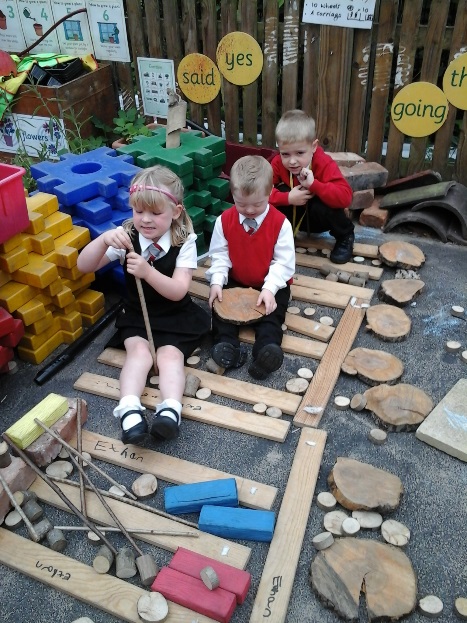 This week Class 1 have had another busy week.
They have been learning to use all the sounds they have learnt so far to read and write words such as dog, pan, in, it, mad, sat.
They have been practicing how to hold a pencil correctly and have been learning to write their name, with chalk, with paint brushes and water, felt tips and pencils. They have started to write their name as they come into class as part of the registering process.
The class have been busy painting self-portraits this week, and if you pop into the class next week you should be able to see these beautiful pictures displayed in the classroom. We have some talented artists amongst us.
Every Wednesday morning Mr McCloy comes into Class 1 to teach the class music. This week they were learning about dynamic control. They played a hide and seek game to see if they could follow volume change and understand musical directions.
In the construction area this week we have been making trains. As a class we agreed that we wanted to include a track, a horn, a carriage and 10 wheels. Look how creative they they been.
Remember we have an information evening for new parents on Wednesday 5th October!