Class 4 Curriculum Information
Welcome to Class Four
Years 5 and 6 - Mrs Satsangi
In Classes 3 and 4, we strive to ensure that our children have strong core skills in Reading, Writing & Mathematics, which are then utilised and given a context within a broad and creative curriculum.
Reading continues to be a priority; children are encouraged to read widely for pleasure, whether that is electronic material or traditional books. We also take every opportunity to read throughout the wider curriculum areas, in order to develop valuable research and information gathering skills.
Mathematics is also a priority. Encouraging an enjoyment of the subject is an integral part of Mathematics; learners at all stages are supported to find pleasure in challenge and be aspirational for themselves.
By the end of their time in Class 4, we aim for the children to be well prepared to continue successfully into secondary education and beyond.
Studying Beowulf
Details

Written by

Super User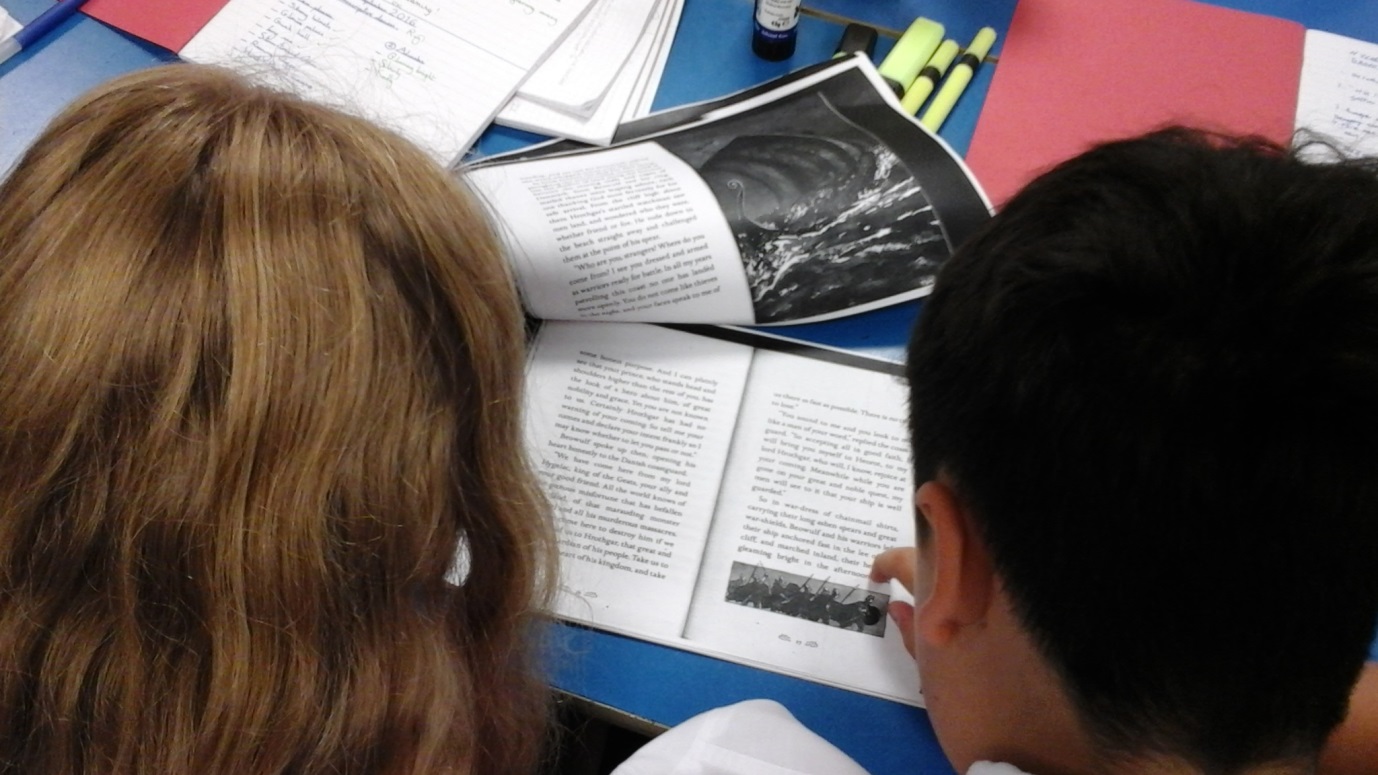 This week we have been studying Beowulf, an Anglo-Saxon legend. We have used the knowledge and understanding gained during our Immersion week to set the scene for the book. We have focused on key reading skills including: selecting information from the text and explaining reasons for the author's word choices.
It's the Summer Term!
Details

Written by

Super User
I hope that you had a super May break.
Our whole school topic for the Summer (Term 2) is 'The Wonder of Nature / Countries Far and Wide'. In Class 4, we will be exploring the question, How can we re-discover the wonder of Ancient Egypt? (History focus). We are excited to be having an Egyptians 'Immersion week' this week which has been a wonderful opportunity for the children to really engage with our topic, increasing their Egyptianknowledge across the curriculum, to feed in to other areas such as literacy and art. This term we will also be learning about the scientific ideas of evolution and inheritance, and answer the question, Have we always looked like this?
Class 4's main Literacy focus is Egyptian story writing and poetry. This will give the class the opportunity to develop their storytelling and descriptive writing skills, along with other key skills. We will also be writing in a number of different genres as part of our writing in cross curricular opportunities.
In maths we are going to be using our problem solving skills to solve Egyptian maths problems, explore fractions, decimals and percentages, measure, time and angles. We are continuing our Beat It Ultimate Challenge (all the timestables!) this term.
Spellings
Spellings will continue to be given out on a Friday for a test on Thursday of each week for this term. Your child will bring home their spelling card with words to be practised daily. There will also continue to be a dictation exercise and some surprise spellings based on the spellings explored in a daily 'Morphograph' slot which the class all take part in.
Reading
Your child should be bringing their reading book home every day. Please let me know if this is not the case. In Key Stage 2 your child will be heard read weekly by the class teacher. If it is felt your child needs a 'boost' for their reading, it is planned that s/he will be heard read individually 3 times per week – by the class teacher, a Teaching Assistant and potentially by a parent helper. We ask that your child reads daily at home for 10 – 15 minutes.
However, this should be enjoyable and not a chore! If your child does not like reading, please pop in to discuss ways in which we can encourage your child to read regularly. Also, it is still important for an adult to hear your child read and to read to your child. Often reading alternate pages together is a good way of encouraging and improving reading skills. Your child also has access to the Bug Club E-Books.
P.E. Kit
Our P.E. days this term are Wednesday and Friday; however, your child will need their labelled indoor and outdoor PE kit every day as we will soon be practising for our Sports Evening.
Thank you for your continued support.
Yours sincerely
Mrs Marenghi-Smith