I feel one of the most important factors that allows the children to progress academically is the children feel listened to and valued as individuals enabling them to focus on their education as they feel safe and nurtured. Parent
Here at Staverton Primary, we understand the need for everyone in our school to have a healthy lifestyle. We actively promote physical and emotional health, and aim to equip pupils with the understanding and skills they need to make informed decisions about their health, both now and in the future.
Northamptonshire Healthier Child Project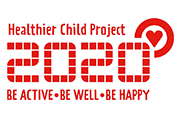 The school is participating in the highly commended, award nominated 'Healthier Child Project' in partnership with Northamptonshire County Council. A Healthy Child Advisor works with the school to further incorporate aspects of the Healthier Child Initiative into our school day. Should you wish to find out more please go to the link in the sidebar : www.northamptonshire.gov.uk/healthierchild.
Healthy Eating
The school regards healthy eating as paramount to children's overall health and well being. The school has taken part in a Cancer Research UK project to explore the views of primary school children in relation to unhealthy food advertising. The findings from this research will help CRUK and other organisations working in the food policy area within the UK.
Please find guidance for encouraging healthy eating and our Food Policy in the side bar.
Pupil Illness
We are committed to safeguarding and promoting the welfare of children and have a duty to ensure the health and well being of all children in order for them to be successful learners in a learning environment that is clean, healthy and safe for everyone. The school has procedures in place which are effectively implemented to deal with children taken ill at school. These procedures are outlined in our Pupil Illness Policy which can be found on the side bar and our Policies page.
We work with parents to follow the published guidance by Public Health England regarding infection control in schools. Please use the link in the side bar to the guidance for further information for parents.
Administering medicines
In line with our Administering Medicines Policy, medicines can only be administered that have been prescribed by a doctor or some other authorised person and where it would be detrimental to a child's health if the medicine were not administered during the day. Non-prescription medicines cannot be administered by staff but parents/carers can make arrangements at lunch time to administer the medication to their child as necessary.
Please find below the school's Medication Consent Form that can be printed, completed and returned to school with the necessary medication. Alternatively, this form can be obtained from the School Office.